Some one tell the Big Boy USA in Little Italy he's just been bumped. We've taken the Double Cheeseburger & Fries and wrapped them in the usual Calzone but added a Pepperoni Pizza into the bargain.
This is a beast of a challenge 16" Pizza & Double Cheeseburger Calzone in one!!!! The only question is will you share it? 22.45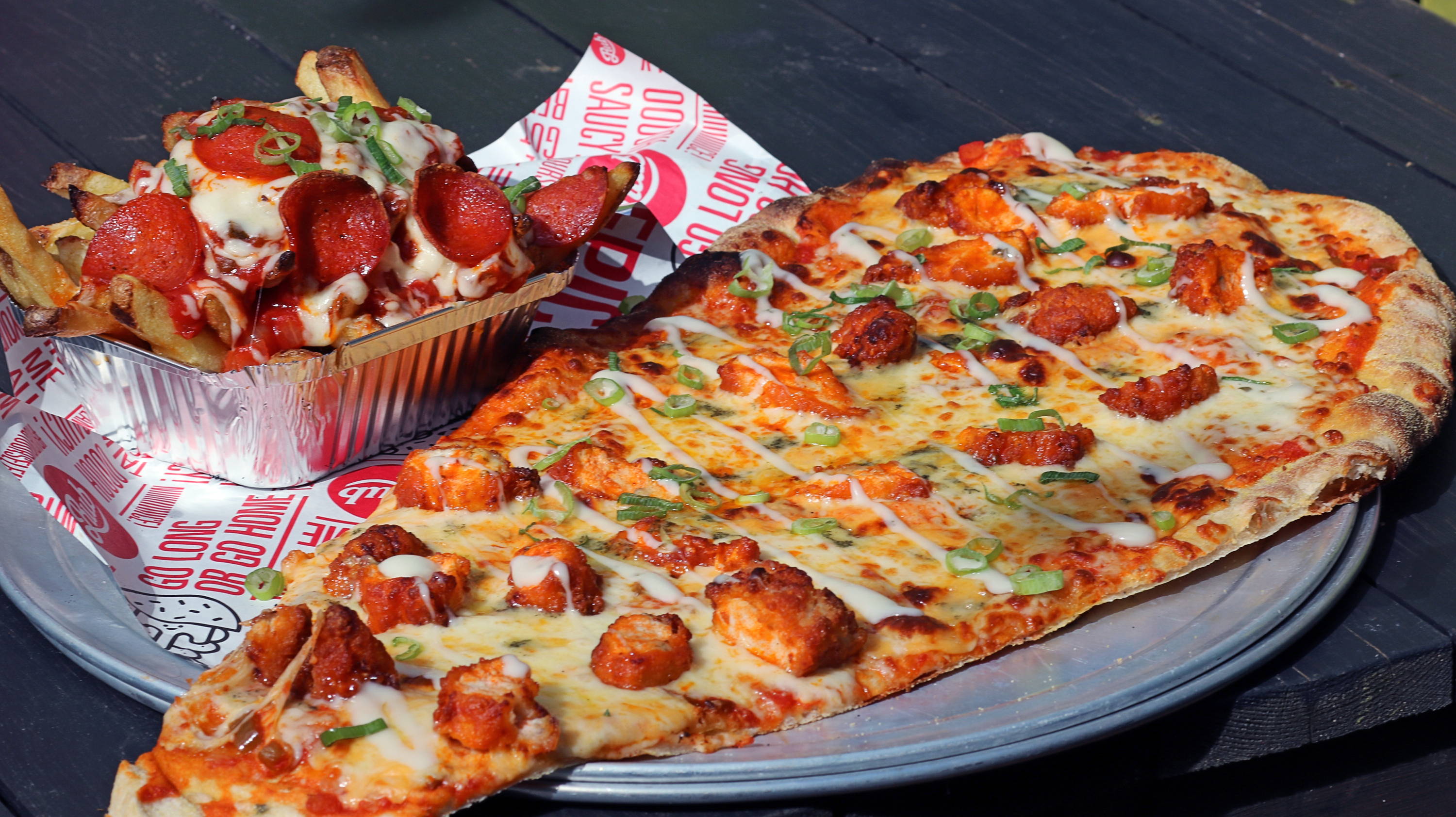 BUFFALO FRIED CHICKEN 2FT SLICE
MENU HACK
Take our 2 ft Pizza Slice and hack it with garlicky buffalo sauce, buttermilk fried chicken, mozzarella, & blue cheese dressing. Served with fries (shown upgraded to Pizza Fries) 16.95
THE BIGFOOT BURRITO GOES TO YORKSHIRE
Available EVERY SUNDAY this delicious delight is BBQ Brisket smoked low n slow for four hours, with smoked cheese mash, spring greens, horseradish and a touch of gravy. Wrapped up in something that would shock Aunt Bessie, a massive beef dripping Yorkshire pudding, served with a dipping gravy or pour it all over? 19.95
MENU HACK
Take 11 #EPIC SUPER SLICES from our menu and it will make a 4ft wide 11000 calorie mega pizza? If you wanted to order this we'd need a warning. If you want to take it on as a challenge contact us.
The price would be 175.45 but challengers could negotiate a discount, we'd recommend a tag team challenge of 3 people?
Two cookies stuffed with Brownie Heaven. melted marshmallow & Nutella™ have it with or without ice-cream? 7.95
PRETZEL CHEESE CAKE SUNDAE
Choose you ice-cream add Cheesecake, Cream, Salted Caramel & Pretzels and you've just created an EPIC SUNDAE #Boom 12.00