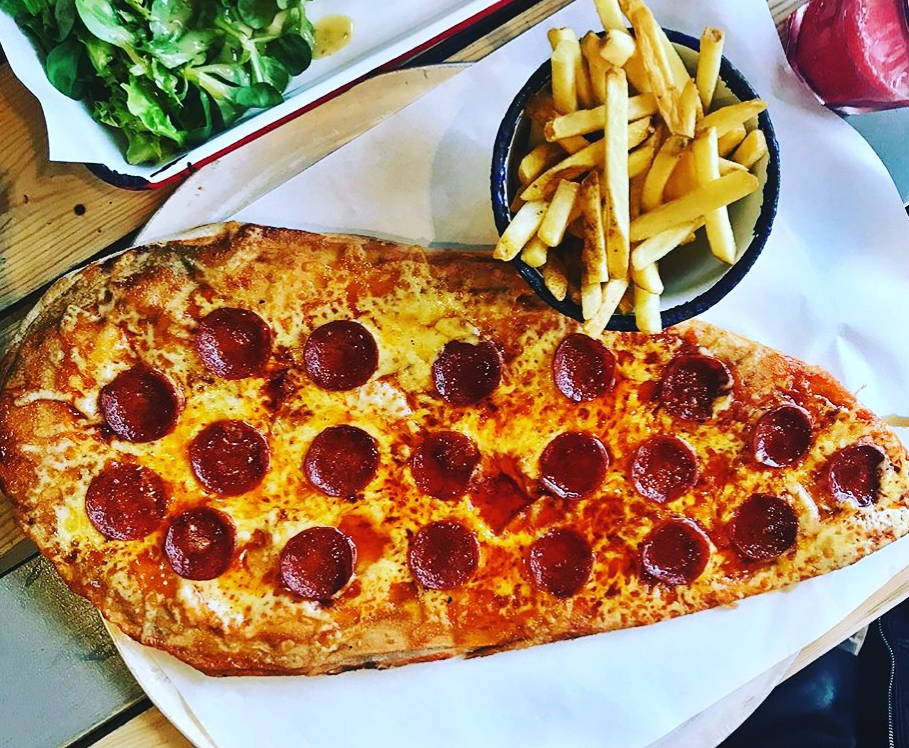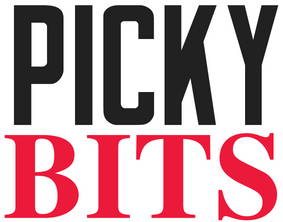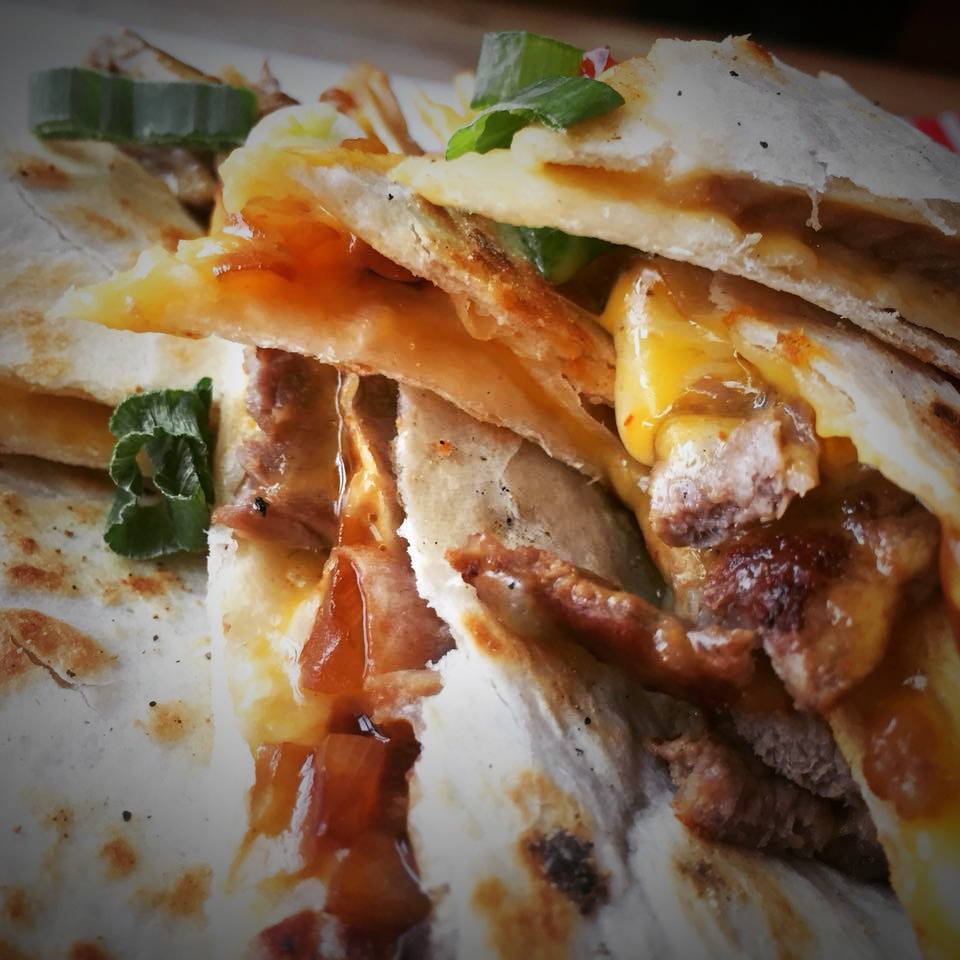 Two 12" tortilla stuffed with steak, peppers, onions & cheese sauce 9.75
(gf) with apple sauce 3.00
Two 12" Tortilla stuffed with pulled pork, garlic butter & cheese 7.50
BUFFALO CHICKEN QUESADILLA
Two 12" Tortilla Loaded with pulled chicken, tossed with hot sauce, garlic butter and cheddar cheese. 7.75
(v) brioche toasted with garlic butter 3.00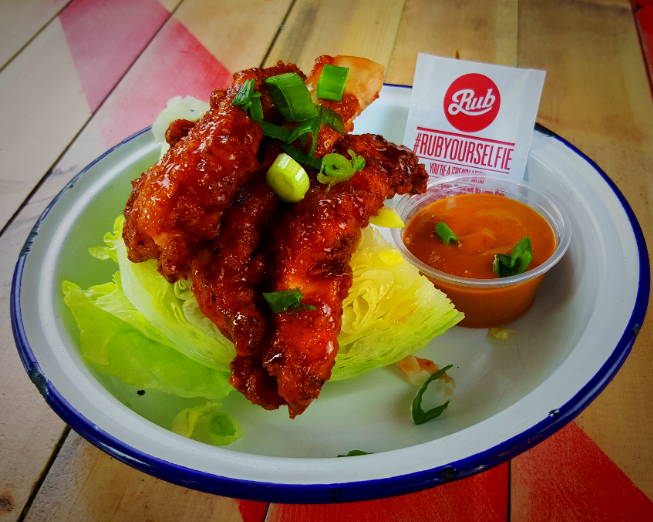 Chicken breast coated in Rub spiced flour in honey BBQ sauce. 6.95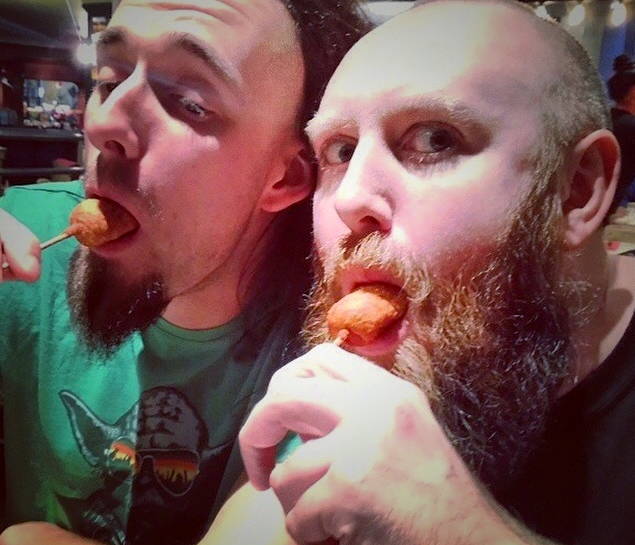 Corn dog served with a mustard dip 2.50
A BBQ tray full of sour cream, guacamole, pulled BBQ pork, Monterey Jack, salsa, cheese. Available in Mild, Hot or Insane!!! Designed to To Share 11.95
Our famous dirty burger a mixture of aged Jacob's Ladder, chuck steak and brisket coarsely ground into a pit burger, barbecued topped with pulled pork and nacho cheese sauce with house pickled slaw, lettuce and house BBQ sauce mayo on toasted bun. 12.00
(Add an extra burger. 2.50)
Our famous dirty burger a mixture of aged Jacob's Ladder, chuck steak and brisket coarsely ground into a pit burger, barbecued with house pickled slaw, lettuce and house BBQ sauce mayo on toasted bun. 6.45
(Add an extra burger. 2.50)
ALL SANDWICHES ARE SERVED WITH RUB BBQ MAYO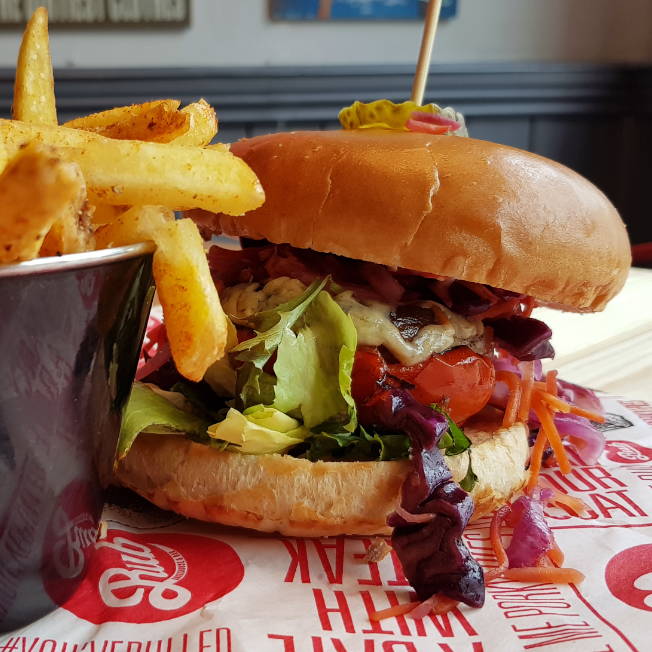 BBQ field mushroom, smoked cheese & almond, romaine, roasted pepper, slaw, toasted bun. (v) 6.75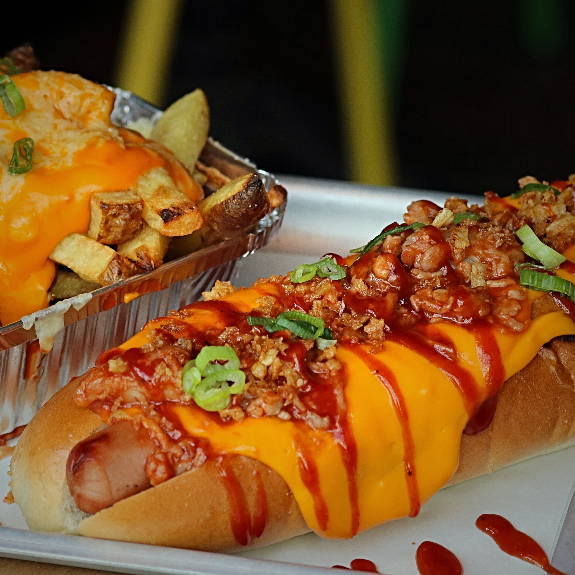 A smoked frankfurter loaded with pulled pork, aged cheese sauce and crispy onion. 7.00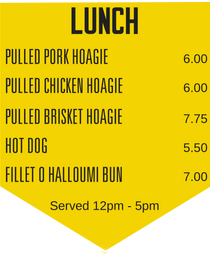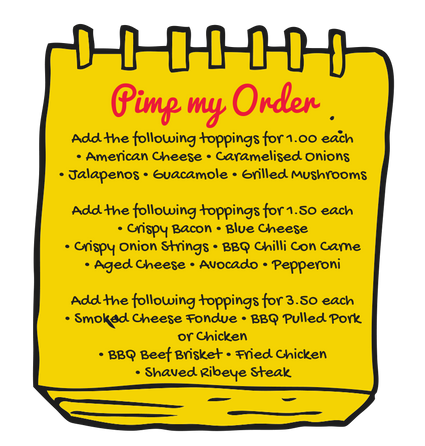 HALF RACK 12.00
FULL RACK 17.75
REGULAR PLATE 9.00
EPIC PLATE 13.00
REGULAR PLATE 13.00
EPIC PLATE 17.00
HALF 11.00
TWO HALVES 19.00
Get down and dirty with this BBQ feasting platter, smoked fresh everyday low n slow over hickory for hours featuring baby back ribs, famous pulled pork, smoke ring brisket, bbq chicken with white Alabama bbq sauce, buffalo wings, topped with sliders and cheeky corn dogs. Served with fries, onion rings, corn & slaw.
The size of an American state with all the ingredients. Two 6oz Cheeseburgers sandwiched with steak, bacon, two eggs, onion rings speared with a corn dog. 19.95
(served with fries not shown)
Mexico meats Italy with this homemade Lasagne made with our famous pulled pork and minced beef wrapped in a tortilla dipped in crushed nachos and fried. Served with rub spiced fries and salad garnish. 16.95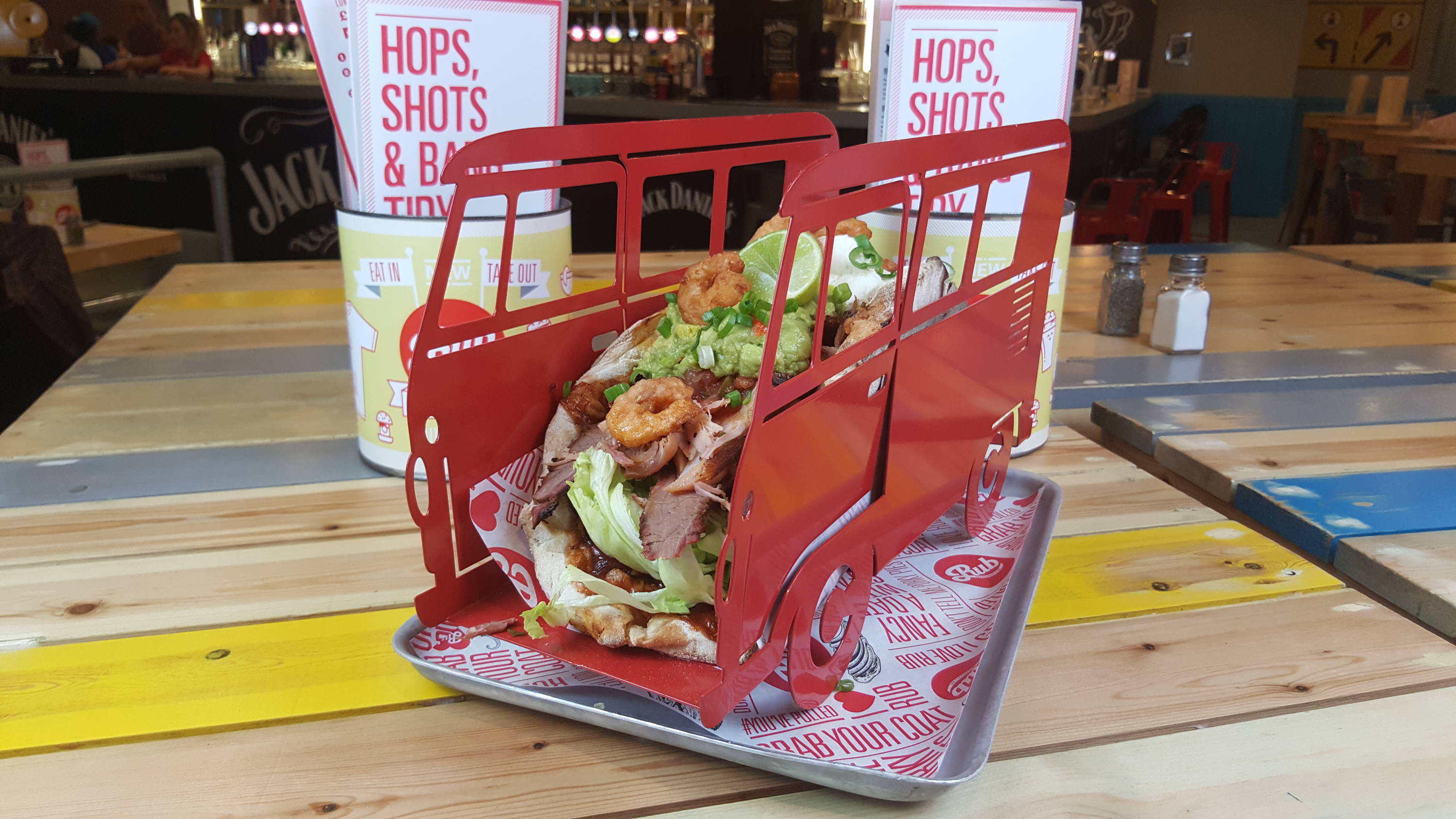 So big its served in a Mexican VW Bus, a 16" pizza folded and stuffed with pulled beef, pulled chicken, pulled pork, shredded lettuce, salsa, guacamole, sour cream and smoked cheese topped with fried chicken. 19.95 (awaiting new photo)
A double cheeseburger, filled with a generous layer of our famous pulled pork, with lettuce, slaw & served between two Belgian Waffles drizzled with maple syrup. Served with a portion of skin on fries. 17.95
Smoked cheese dusted in nachos, fried until crisp and gooey, sandwiched between 2 dirty cheese burgers, topped with avocado, slaw, hickory bacon served with skin on fries. 17.95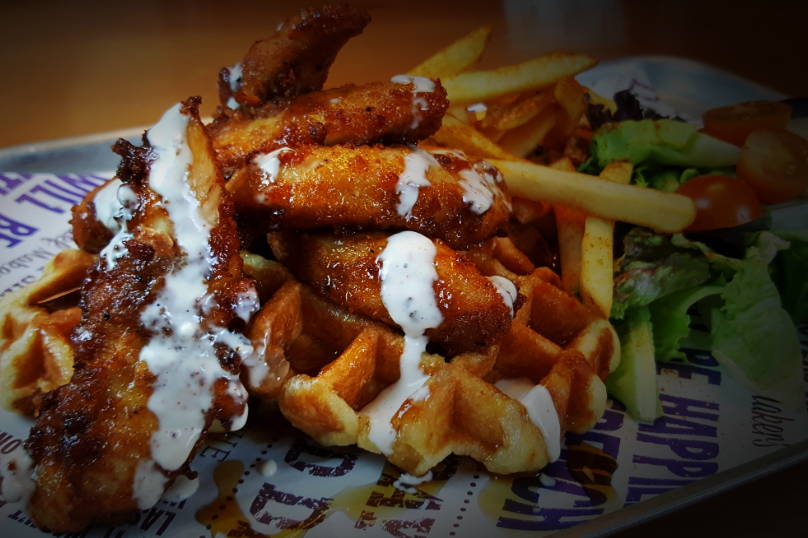 Buttermilk fried chicken tenders, on top of waffles drizzled with maple syrup, white bbq sauce, salad garnish and fries 16.95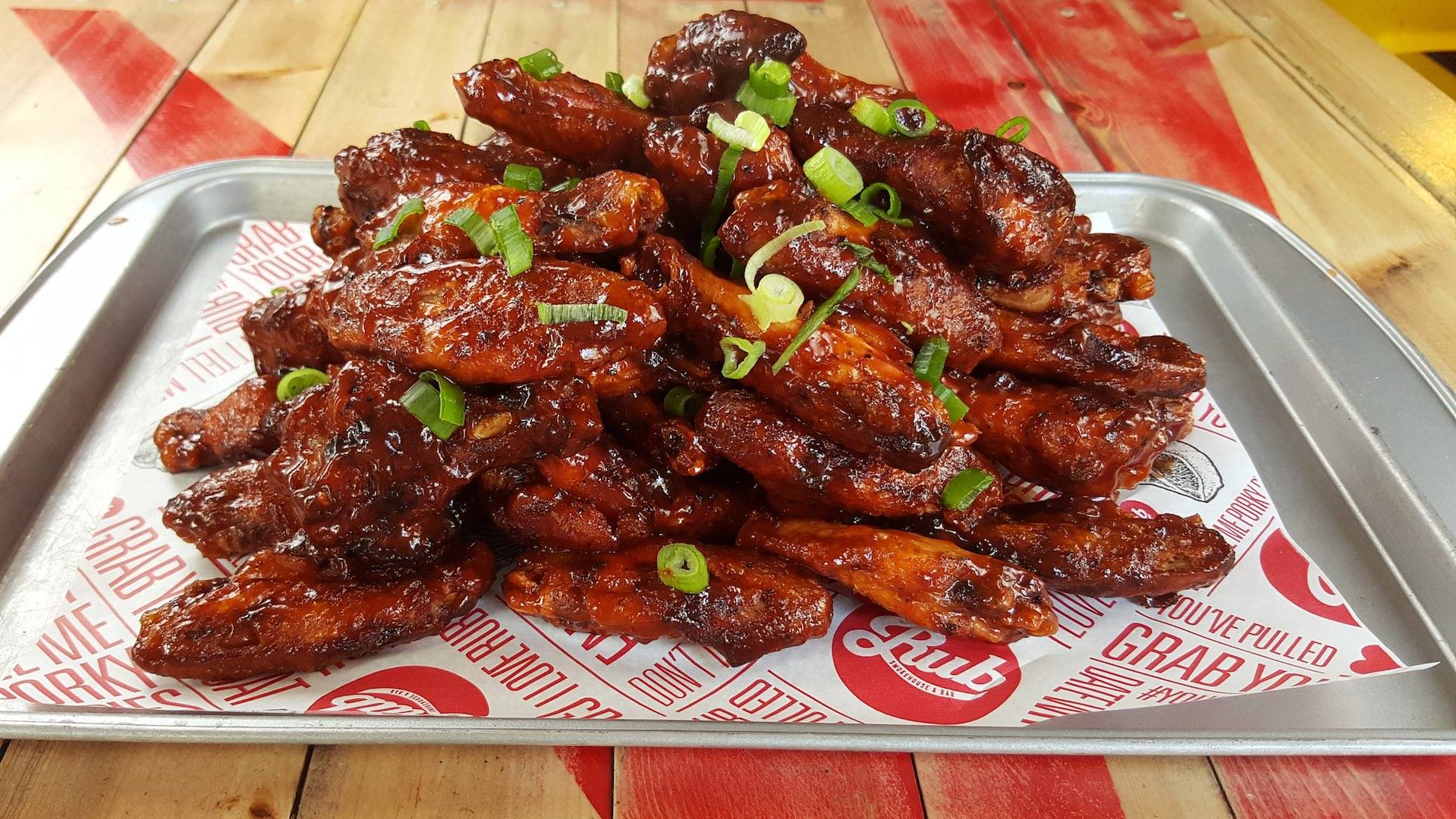 Our famous chicken wings, smoked over hickory and served coated in BBQ sauce or Buffalo Hot Sauce or even Insane if you dare. 12.50 per kilo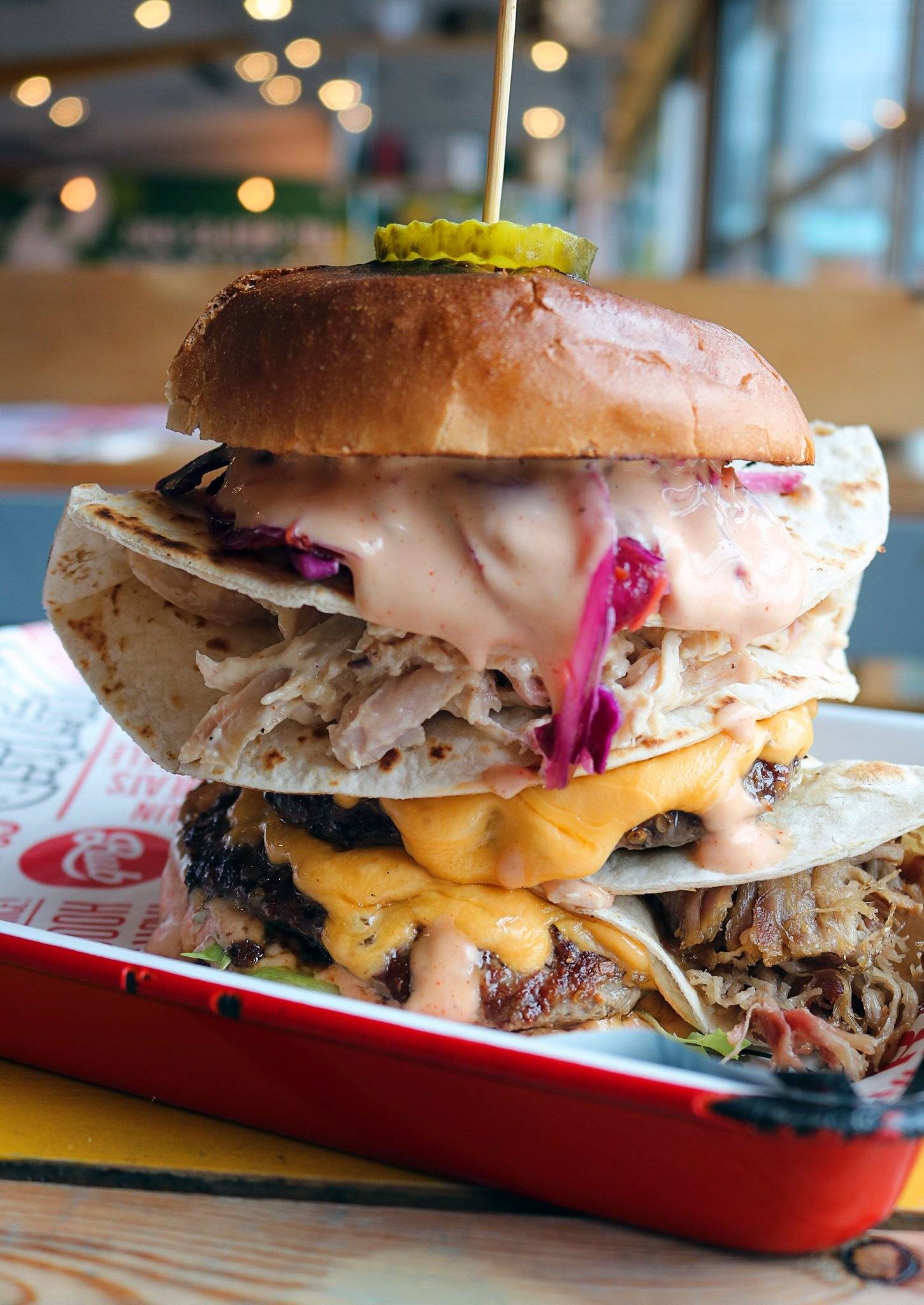 BEAT THE MEAT TACO BURGER
Two Cheeseburgers, sandwiched with a pulled chicken taco, and a pulled pork taco, dressed with sour cream, guacamole, jalapefios in a brioche bun, served with chilli cheese skin on fries. Attack the Stack! 17.95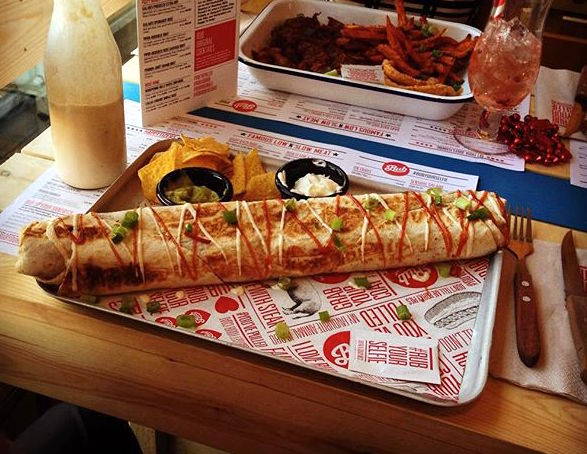 Five Tortillas glued together with our famous pulled pork, pulled chicken & pulled pork chilli, with cheese, guacamole and sour cream, served with Nachos. 18.95 Or go veggie, with mixed bean chilli, rice, cheese sour cream & guacamole. (v)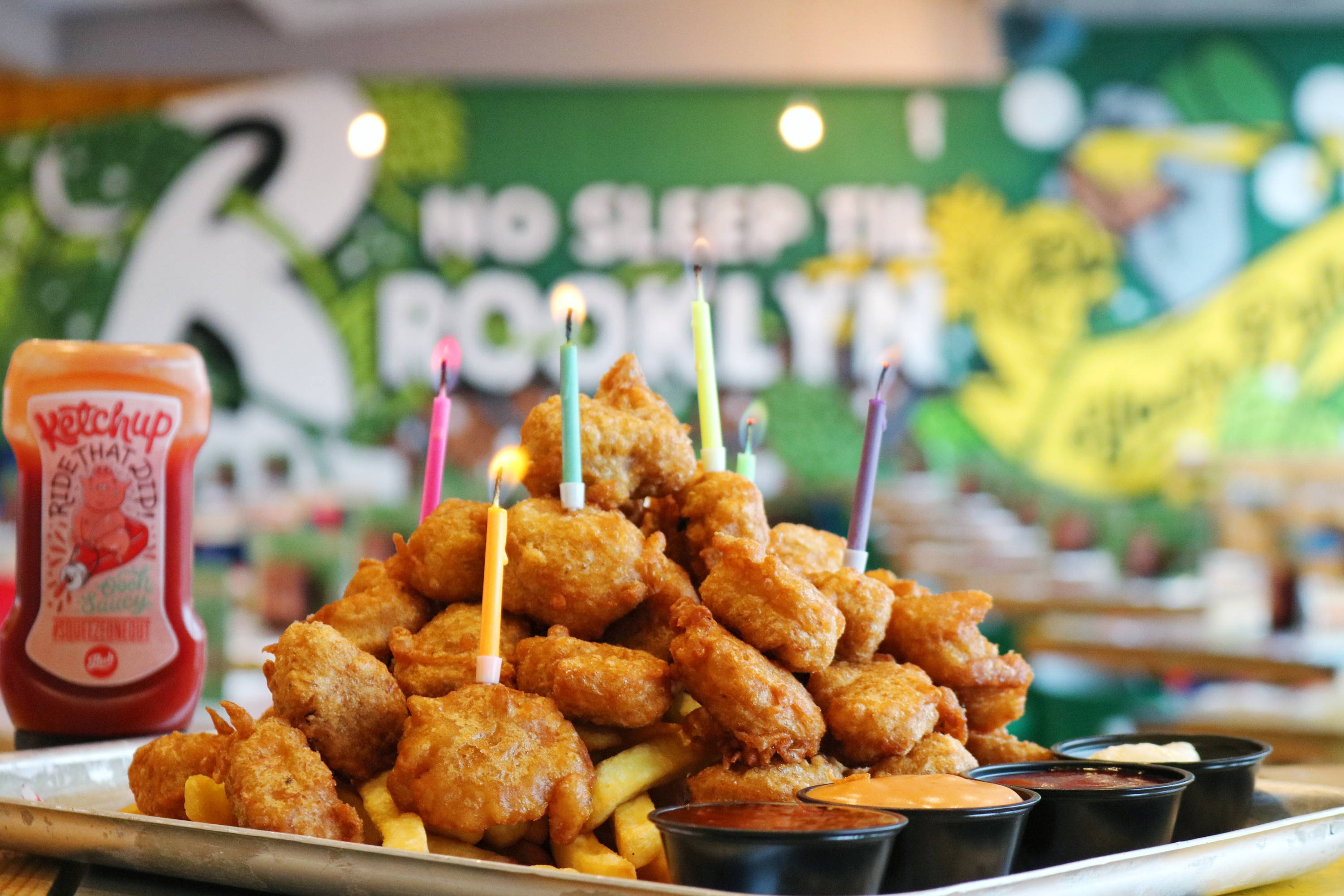 A mountain of chicken nuggets and fries arranged like a birthday cake with candles, and served with dipping sauces, sweet curry, honey bbq, sweet chilli, mayo, ketchup & bbq mayo 19.95
BIG BOY USA IN LITTLE ITALY
A double cheeseburger in a bun with fries, wrapped up in a BBQ & Mozzarella flavoured calzone. Served with an extra portion of skin on fries and BBQ dipping sauce. Wrong?? More like sooooo right! 18.95. Also available as a veggie version (v) swapping the normal burger with the Forest Burger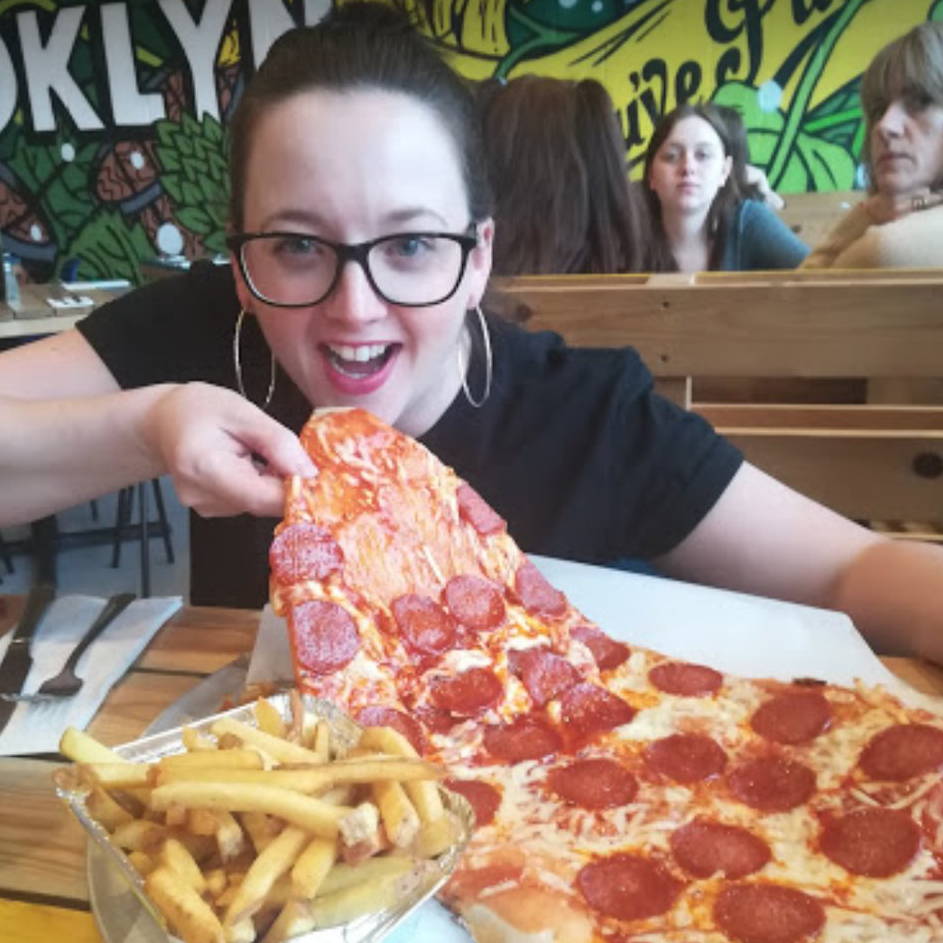 An EPIC two foot NY style pizza slice with BBQ sauce and mozzarella served with or without (v) pepperoni served with fries. 15.95
EPIC PHILLY CHEESESTEAK SUB
A super sub stuffed with shaved rib-eye steak, cheese, cheese, sauce on griddled onions & peppers served with fries 19.95
Brisket and pork chilli slowly smoked with all the spices in the smoker or mixed bean chilli (v) both served with dirty rice, nachos and sour cream 9.00
King Prawns fried in Rub spiced flour served with fries and a garlic buffalo dip. 10.95
Dry Aged Steak cooked to your liking with your choice of 2 Bits n Bobs (325g) 21.00
Chicken, bacon, avocado, blue cheese, boiled egg, lettuce, tomato & peppers 12.00
Spinach & Ricotta in canelloni nacho crumb and fried served with texas toast (v) 11.00
Tater Tots 4.00
Dirty Rice (gf)(v) 3.00
Skin on Fries (gf) 3.00
House Pickled Slaw (gf) (v) 3.00
Corn on the Cob(gf) (v) 3.00
Sweet Potato Fries (gf) 4.00
Applewood Smoked Mash (v)(gf) 3.50
Pulled Pork BBQ Beans 4.00
Macaroni Cheese Bites (v) 4.00
Texas Toast with Cheese (v) 3.50
Mixed Salad with White BBQ (v) (gf) 3.50
Spring Greens (v) (gf) 3.00
IPA Onion Rings (v) 3.00
Nacho Cheese Sauce 2.75
BBQ Gravy 1.75
Warm BBQ Sauce 1.75
With grated cheddar & nacho cheese sauce 5.50
With BBQ gravy and smoked cheddar 5.50
Crumbled blue cheese and smoked bacon with blue cheese dressing 6.00
Fries coated in garlicky buffalo sauce with pulled chicken and sour cream 6.50
with Tomato, Pepperoni, Cheese 6.50
with crispy beef, sesame seeds & Korean bbq sauce 6.75
Skin on fries with pickled onion seasoning, pulled beef brisket, cheese sauce, flamin' hot Monster Munch & a few jalapenos 6.75
Wiith our homemade chilli con carne, cheese sauce & sour cream 6.50
With Bacon, Pulled Pork, Pulled Chicken, Cheese, Buffalo & Garlic Sauce, BBQ Sauce 6.50
We Love it Low n Slow and Pink
The Ribs, Chicken and Pork are all rubbed with our secret spice blend and then cooked over Hickory at a low temperature for many hours, this creates a pink tinge in the meat, similar to the colour of ham after curing. All of our meats are fully cooked and are all probed to ensure they are cooked to the correct temperature. All of our meat is cooked overnight in our Smokers Hank n Marvin at a low temperature, Smokehouse food will never be served Piping Hot.
Allergens
(v) Vegetarian, (gf) Gluten Free. All of our food is prepared in a kitchen where nuts, gluten and other allergens are present and our menu descriptions do not include all ingredients. If you have a food allergy, please let us know before ordering. Full allergen information is available on request.